Letter from Sierra Leone – Lungi community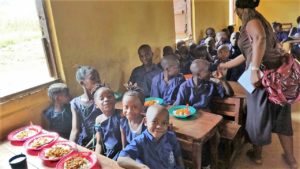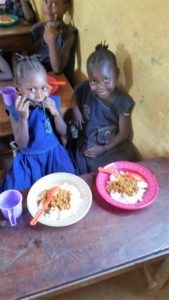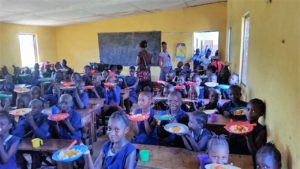 This year Hatima Foundation has donated funds to feed children in Sierra Leone during their school day. Most of the children are orphans due to the Ebola epidemic. Father Sergei – Salesian takes care of them every day Read his letter.
W tym roku Fundacja Hatima, przekazała środki na dożywianie dzieci w trakcie zajęć szkolnych w Sierra Leone. Większość z dzieci jest sierotami z powodu epidemii eboli. Ksiądz Sergiej – Salezjanin opiekuje się nimi na co dzień, przeczytajcie jego list.
THE IMPORTANCE OF THE FEEDING PROGRAMME
FEEDING PROGRAM IN YOUTH CENTER AND PRIMARY SCHOOL.
IT WAS BIG HELP FOR POOREST CHILDREN AROUND TOWN WHERE DON BOSCO YOUTH CENTER IS OPEN FOR ALL YOUTH.
TO SELECT YOUNG PEOPLE WE GO HOUSE TO HOUSE AND SEE HOW LIVING CONDITIONS AND FAMILY BACKGROUND OF CHILDREN. WHEN CHILD IS FROM BIG FAMILY WITH ONLY ONE PARENT OR WITHOUT PARETS. THOSE POOR CHILDREN WHO WILL BE SELECTED FIRST.
WNEN WE SELECT CHILD WE SEE HOW SHE OR HE IS DOING IN THE SCHOOL. OCATIOANALY WE ALSO HELP THEM WITH THEIR CLASSES.
WE TAKE ONLY 150 POOR CHILDREN DUE TO BETTER SERVICE AND SPACE THAT WE HAVE. WHEN WE HAVE EXTAR FUNDS WE DO ADD EXTRA 50 TO 80 CHILDREN. SOMETIMES WE WOULD GET UP TO 230 POOR CHILDREN TO HELP THEM WITH THEIR STRUGELLINGS OF LIFE.
There are children from five different Muslims and Christians primary schools. Sierra Leone has enjoyed peace for the past ten years until when another outbreak called Ebola stroke the country again.
Ebola is a very serious sickness. When people catch it, they become sick and may die.
In SIERRA LEONE the sickness affected the lives of the people so badly that many lives were claim by the sickness. This was as a result of the attitude of the people towards the sickness. People refused to believe the fact that Ebola is real. Instead, they politicized it and associated it with witch craft. There is no medicine for Ebola. But people who catch it can become well again if they are treated very early in a hospital with good care from doctors and nurses. Many people in Sierra Leone where sick with Ebola and are now well because they were treated early.
The Ebola sickness has broken homes and caused families to be separated. The outbreak also left so many orphans and widows. These children and widows are left with no one to care for them. In an Ebola ravage community where Saleisians work, hunger and poverty are prevalent. The lives of the orphans and widows are so deplorable such that, to get a day's meal becomes a matter of luck.
The Salesians of Don Bosco targeted the orphans whom they consider as weak and innocent. The Salesians, especially the youth center, has been the only means of livelihood for young people in community. This has been achieved through the feeding programme organised by the Salesians of Don Bosco.
These poor children are fed three times per-week. That is on Monday, Tuesday and Friday respectively. However, the provision of this food to the children has greatly helped in solving the problem of street begging, stealing child labour teenage pregnancy and other mal-practices.
The children now begin to see the value of their lives and the presence of the Salesians. The following are some of the comments of these orphans in connection with the feeding programme.
COMMENTS OF CHILDREN:
According to Christian.S.Kargbo, he wants to thank the Salesians of Don Bosco all over the world for giving him hope through the food he received throughout the week.
Another beneficiary named Andrew B.Thoronka he also thank the benefactors to help him stop absenting from school because lack of food.
Peter Conteh also mentioned that the food has created a great impact in his Education; it helped him to concentrate in his studies.
Momodu Mansaray who is in the junior secondary school said the food gave him energy and has improved rapidly in his growth which has been his sickness for a long time now. He said he will never forget to pray for the Salesians and the benefactors.
However, other beneficiary like: Isatu, Mabinty, Foday, Abu, Emmah,N'yillah, Sorie they also mentioned how the feeding programme has helped them stop stealing, begging, carrying lodges for people and prostitution for young girls to survive with their families.
The feeding programme through the Salesians of Don Bosco with the help of ANETA SZELC AND JOLANTA RYBKA friends from Poland has really savage the problems left behind by the Ebola sickness in Lungi community.
MAY GOD BLESS YOUR GENEROSITY DEAR FRIENDS IN CHRIST AND DON BOSCO.